Features
SynergyCP has a very powerful feature set that is perfect for power users and learning ones.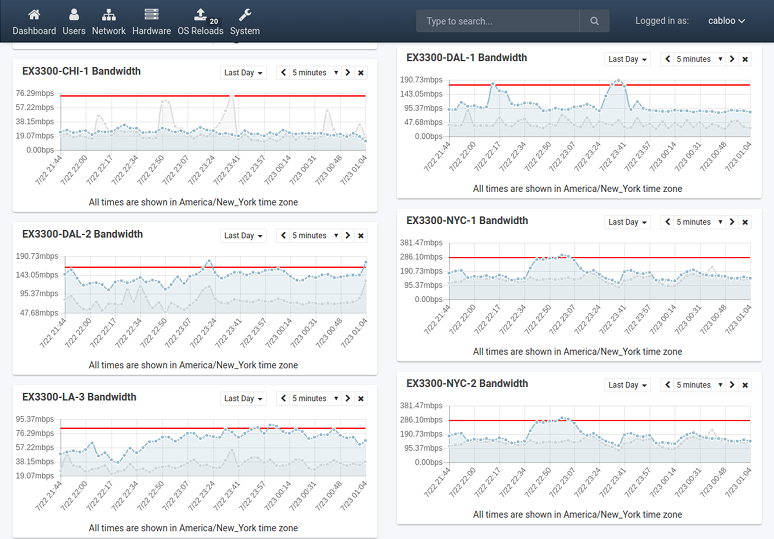 Unattended OS Reloads
Clients and administrators can reinstall the operating system on any server that they have PXE access to. The process is fast, customizable, and fully automated. SynergyCP supports many operating systems and has been tested on a wide variety of hardware. We have already included the drivers you need for most network/RAID cards on Dell/HP/Supermicro hardware. You can easily upload drivers to be automatically included in specific or all Windows installations.
WINDOWS
Windows 2008 R2, 2012 R2, 2016, and 2019
Automatic and secure License Key activation – activates your license key on the server then automatically deletes all traces of the original key so that it cannot be stolen by server tenants.
Option to install trial version so that tenants can use their own license key and still benefit from automated OS Reloads.
Easily add and customize ISOs & Drivers for Windows installs.
LINUX
Ubuntu 10, 12, 14, 16, 17, and 18
Debian 6, 7, 8, 9 and 10
CentOS 6, 7 and 8
Configurable shell scripts
LIVE RECOVERY & OTHER TOOLS
Disk Formatting (Zero/Quick)
GParted
System Rescue CD
Linux Rescue Shell
FULLY AUTOMATED
All installs can happen without any intervention from your staff. When an install is finished, the tenant will be emailed the SSH or RDP details needed to login to their server.
FULLY INTEGRATED
Links with other software like WHMCS for automatic IP assignment and unattended provisioning upon tenant purchase.
RAID CONFIGURATION
Automatic Soft RAID 0 or 1 configuration for all operating systems available on servers with more than one disk.
RAPID RELOADS
OS reload files are automatically copied between PXE deployment servers at all locations for ultra-fast OS reloads.
EXTREMELY CUSTOMIZABLE
Modifiable OS configuration templates (preseed / kickstart / unattend.xml)
Modifiable shell scripts that run with Linux OS installations
Build custom OS Reload profiles with custom shell scripts / os configurations / kernel line / drivers / completion emails to automate deployment of any software on any operating system with any hardware. Everything can be customized from within SynergyCP.
Client Side
The Client Side is focused on empowering clients to manage their servers easily without any administrator intervention.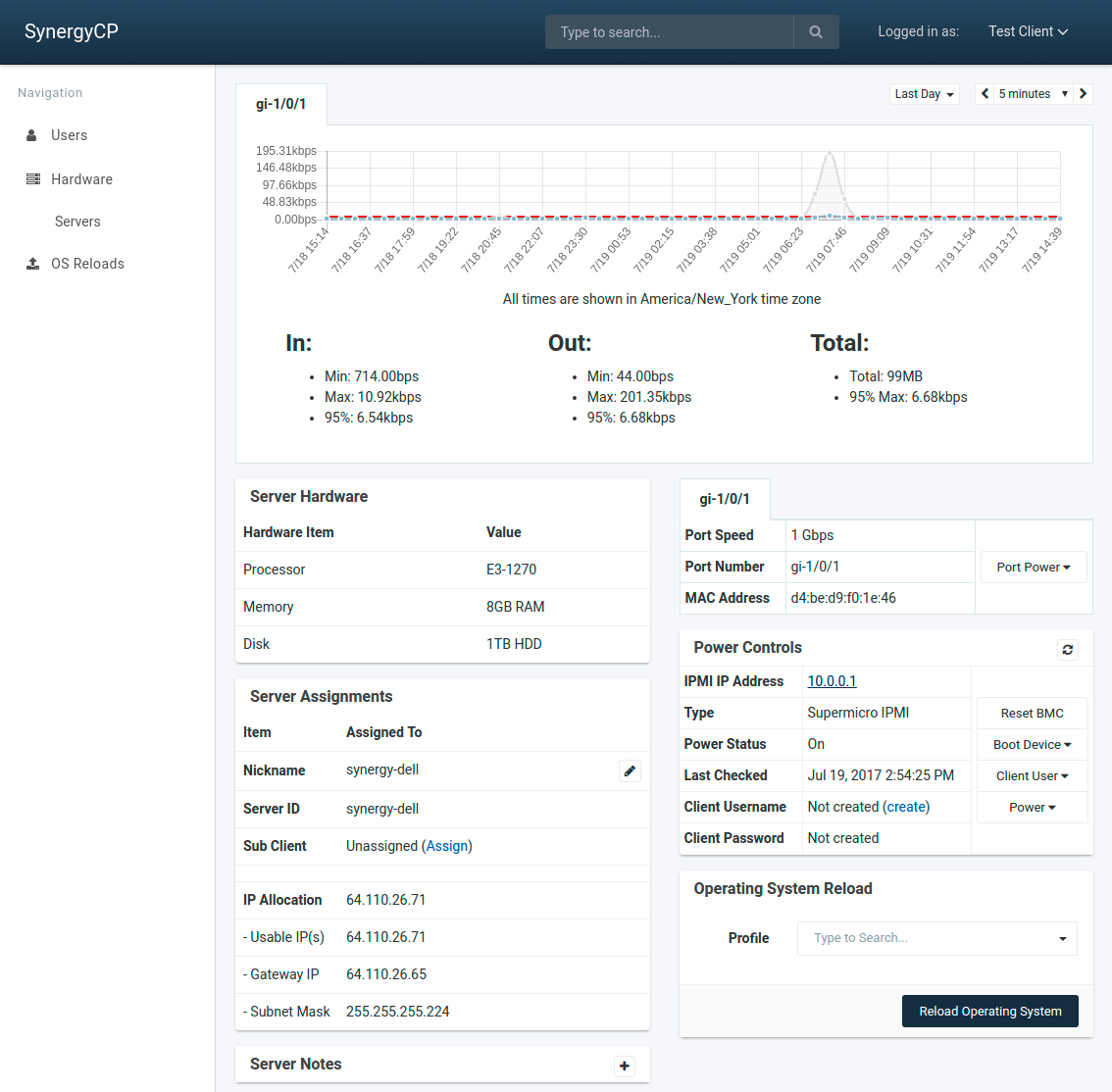 Administrators can easily grant and terminate client access
 VIP clients that do not get automatically suspended/terminated
 Granular Permissions
 Resellers can grant Sub Clients access
 Bandwidth Reports
 Power Controls
 OS Reloads
 Increased functionality through packages
 Clients can grant access to all of their servers to another client (e.g. an "NOC" user)
SAFE & SECURE
Two-Factor Auth
Granular Permissions
In-Depth Logging
Admin ACLs
Server Inventory Management

IP Entity Management
Automated VLAN assignment on switch
Advanced IP searching/filtering
Multi-Entity VLAN support
Multiple ethernet ports per server support
Advanced Filtering
Location
IP Address
Client
Server ID
IPMI IP
Switch & Switch Port
Parts
Bulk Actions
Client Assignment
Billing Date Assignment
Suspension
Unsuspension
Delete
Multi-Vendor IPMI, PDU, & Switch Support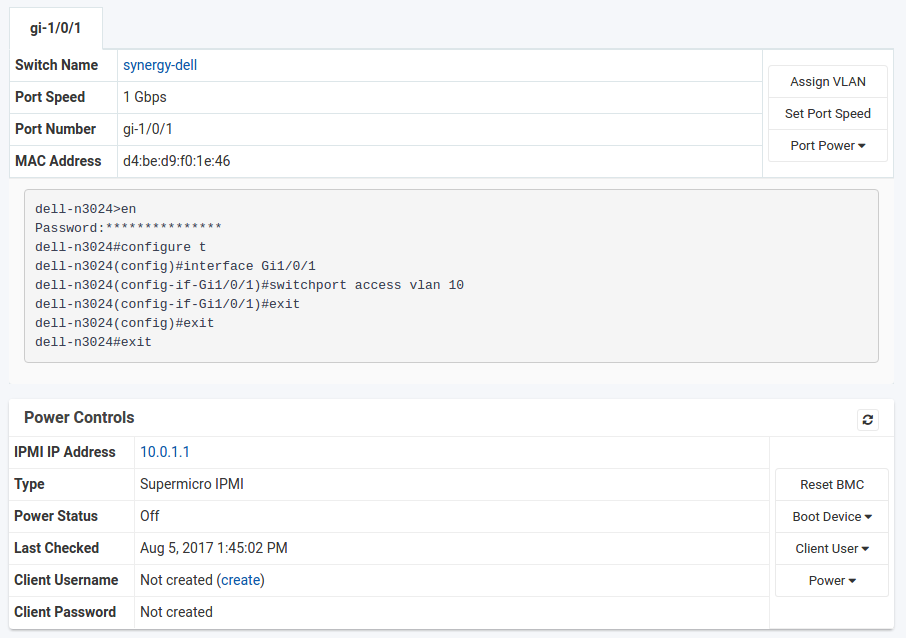 Use any Vendor
Built-in support for: Juniper, Cisco, Brocade, Dell, HP, Supermicro, & APC
Packages can easily add support for additional hardware
IPMI & PDU Controls
Power
Launch KVM
Client user management
BMC Reset
Boot device choice (BIOS, Disk, Network)
Switch Controls
Assign VLAN
Set Port Speed
Set Port Power (On/Off)
Powerful List Actions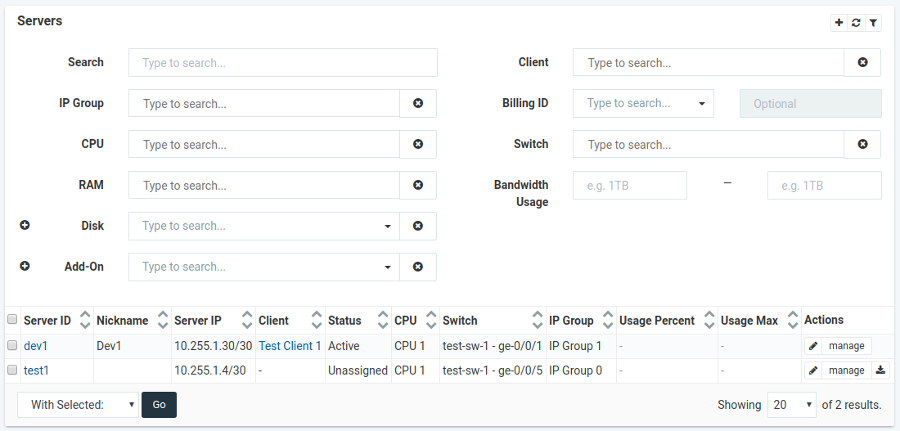 Advanced Filtering
Advanced filters available on every list ‐ just click the filter icon at the top right.
Select multiple different options in any field to do an OR query (e.g. all servers in Los Angeles OR Chicago)
Advanced Sorting
Sort on any column
Ctrl- or Shift-click to sort on multiple columns
Sorting also works on filtered lists
Bulk Actions
Bulk delete on every list
Other common actions like server assignment/suspension
Port Forwarding for IPMI devices

Expose private LAN IP to ACL
Allow clients & admins to whitelist an IP for access to a single IPMI device
Save IPs by using a single one for hundreds of IPMI devices
Automatically configured
When enabled, port forwarding is automatically configured on server creation
Ports are automatically distributed between any number of port forwarding servers at a location